Hemophagocytic lymphohistiocytosis and thrombotic microangiopathy after parvovirus B19 infection and renal transplantation: a case report – BMC Nephrology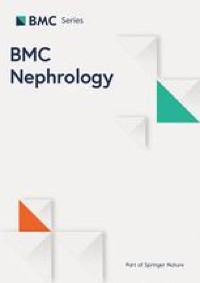 In September 2020, a 50-year-old female was admitted to our hospital with PCR-diagnosed HSV-1 stomatitis and refractory anemia. The patient had received a cadaveric donor kidney transplantation for kidney failure due to IgA vasculitis in 2007 and was on triple immunosuppressive therapy including prednisolone (2.5 mg daily), mycophenolate mofetil (1500 mg daily) and cyclosporine A (100 mg daily). Laboratory testing on admission showed chronic allograft dysfunction (creatinine 3.1 mg/dl), anemia (Hb 5.9 g/dl) with low reticulocytes (32/nl) and low markers of systemic inflammation (CRP 1.9 mg/l, ferritin 324 μg/l). Transferrin saturation, vitamin B12 and folic acid levels, cyclosporine A through concentrations (48 ng/ml) as well as haptoglobin were within the normal range. There was no clinical sign of blood loss. Serum PCR-testing was negative for HSV-1/2, varicella zoster, CMV, EBV, HIV and parvovirus B19 (PVB19) respectively. A nasopharyngeal swab for SARS-CoV-2 was negative.
The patient was initially treated with intravenous acyclovir for 14 days, and immunosuppression was reduced by pausing mycophenolate mofetil and reducing cyclosporine A. Reticulocytes and hemoglobin levels recovered consequently and stomatitis resolved.
Eleven days after admission the patient suddenly developed fever up to 40 °C, low oxygen saturation (92%) and a cough. The lab results indicated acute on chronic allograft dysfunction (creatinine 4.1 mg/dl), acute hepatitis (ASAT 249 U/l, ALAT 300 U/l, bilirubin 4.1 mg/dl), moderately elevated CRP (29 mg/l) and an extremely high ferritin level (20,659 μg/l). Additionally, the patient showed thrombocytopenia (92/μl), elevated LDH (1170 U/l) and reduced haptoglobin (< 0.1 g/l), elevated d-dimer (8.8 mg/l), elevated soluble IL-2 receptor (12,458 IU/ml), elevated triglycerides (255 mg/dl) and low fibrinogen (1.0 g/l), reduced C3 and C4 (620 and 140 mg/l respectively). Coombs test was negative and a blood smear was negative for schistocytes. A chest CT scan ruled out pneumonia and pulmonary embolism. Abdominal ultrasound revealed ascites and moderate splenomegaly. Multiple urine and blood cultures did not show bacterial infection. A second PCR for SARS-CoV-2 was negative.
The diagnosis of hemophagocytic lymphohistiocytosis (HLH) was made based on the patient's extremely high ferritin levels, presence of 6 out of 8 HLH diagnostic criteria and an HScore of 269 indicating a 99% probability of HLH. Treatment with dexamethasone 20 mg daily was started on day 13. Bone marrow aspiration and biopsy were conducted on day 14 and revealed no pathological findings (no evidence of HLH).
Fever subsided 1 day after starting dexamethasone, kidney function improved, and the levels of ferritin, transaminases and bilirubin decreased.
PCR for hepatitis B, C, D and E as well as for EBV and CMV were negative. Repeated PCR testing for PVB19 revealed > 10 million copies/ml. Treatment with intravenous immunoglobulins (100 g cumulative) was started over a course of 3 days to address the PVB19 infection. Dexamethasone dose was tapered to 8 mg on the day of discharge. PCR testing of the bone marrow sample revealed > 9 million copies/ml of PVB19. Serologic testing of blood samples was positive for IgM and negative IgG suggesting primary infection with PVB19.
In the following days the patient's condition further improved, the viral load fell to 16,400 copies/ml at the time of discharge and ferritin levels decreased to 298 μg/l.
On day 35, the patient was re-admitted after a hypertensive crisis and a suspected seizure. Magnetic resonance imaging of the brain (including diffusion weighted imaging and fluid-attenuated inversion recovery sequences) as well as EEG did not show any pathological findings (e.g. posterior reversible leukoencephalopathy syndrome, intracranial hemorrhage). Laboratory testing showed worsening hemolysis, thrombocytopenia, complement consumption, schistocytes of 0.1% and further increasing albuminuria (UACR > 5 g/g). Ferritin, serum albumin levels and cyclosporine A through concentrations (40 ng/ml) were within the normal range and creatinine was stable at the patient's previous baseline concentration. A renal allograft biopsy was performed, which showed glomerular TMA without vascular rejection, glomerulitis or peritubular capillaritis as well as tubular atrophy and 20% interstitial fibrosis (Fig. 1). ADAMTS13 diagnostic ruled out a TTP. On a follow up visit in our outpatient clinic on day 48 the patient was in good clinical condition. Ferritin was within the normal range and albuminuria was decreasing (UPCR 1.5 g/g), creatinine concentration was 3,5 mg/dl. Considering the gradual improvement we decided against therapeutic plasma exchange and complement inhibiting therapy Table 1.
The clinical course, lab values and treatment are depicted in Fig. 2. Genetic screening did not reveal a pathogenic variant in complement genes. However the patient revealed to be homozygous for the known CFH-H3 (alias CFHtgtgt) risk haplotye as well as heterozygous carrier of the CFHR1*B risk allele.
Rights and permissions
Open Access This article is licensed under a Creative Commons Attribution 4.0 International License, which permits use, sharing, adaptation, distribution and reproduction in any medium or format, as long as you give appropriate credit to the original author(s) and the source, provide a link to the Creative Commons licence, and indicate if changes were made. The images or other third party material in this article are included in the article's Creative Commons licence, unless indicated otherwise in a credit line to the material. If material is not included in the article's Creative Commons licence and your intended use is not permitted by statutory regulation or exceeds the permitted use, you will need to obtain permission directly from the copyright holder. To view a copy of this licence, visit http://creativecommons.org/licenses/by/4.0/. The Creative Commons Public Domain Dedication waiver (http://creativecommons.org/publicdomain/zero/1.0/) applies to the data made available in this article, unless otherwise stated in a credit line to the data.
Disclaimer:
This article is autogenerated using RSS feeds and has not been created or edited by OA JF.

Click here for Source link (https://www.biomedcentral.com/)