Hyperkinetic stereotyped movements in a boy with biallelic CNTNAP2 variants – Italian Journal of Pediatrics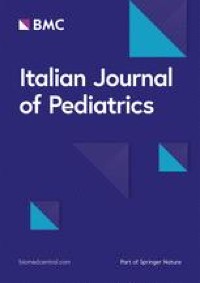 This case was a 7-year-old boy without a family history of neurodevelopmental disability, born at term to nonconsanguineous healthy parents (Fig. 1A) following a twin pregnancy complicated by intrauterine growth restriction and preeclampsia. His dizygotic twin brother was healthy at birth but was diagnosed with absence epilepsy during infancy. The neonatal course was characterised by feeding difficulties leading to failure to thrive. At 3 months of age, recurrent episodes of crying associated with semi-continuous, repetitive jerky movements of upper and lower limbs were observed, which were diagnosed as hyperkinetic stereotyped movements (Supplementary Video 1).
These paroxysmal hyperkinetic-dyskinetic episodes recurred periodically without any trigger, lasted 10–12 h, and mimicked infantile colics. Their frequency was temporarily reduced when anti-reflux formulas and ranitidine were administered for concomitant recurrent vomiting. Electroencephalogram and brain magnetic resonance imaging were unremarkable.
During his first years of life, the patient displayed ADHD and autistic traits. The boy also featured a phonological processing deficiency and clumsiness in gross and fine movements was also observed. His neuropsychological evaluation (WPPSI-III at age 6 years) revealed a global IQ of 71 (verbal, 86; performance, 68; processing, 55). The movement disorder persisted during the following years through non-triggered fast, high-amplitude, rhythmic, continuous and repetitive shaking involving the four limbs with stereotypic features (Supplementary Videos 2–3). His stereotypic movement disorder had been misdiagnosed as tics before, which indeed tend to appear from age 6–7 years [15]. However, these repetitive movements already started before the age of 3 and consisted of intense patterns of movement that ran longer than tics and were more bilateral than tics. Several medications, including carbamazepine, valproate, gabapentin, levodopa, flunarizine, benzodiazepines, did not improve his symptoms. The boy is currently receiving clonazepam, 0.2 mg/Kg in two daily doses.
Genetic findings
Written informed consent was obtained from the patient's parents. Whole-genome array-CGH on peripheral blood genomic DNA of the family quartet revealed a maternally inherited CNTNAP2 variant c.97 +?_209-?dup in the proband. Real-time quantitative PCR confirmed that this 0.402 Mbp duplication involved part of intron 1 and exon 2, with a breakpoint within intron 2 (Fig. 1C). This duplication is not predicted to introduce a frameshift in the CASPR2 protein. The duplication was not inherited by the sibling.
PCR amplification and Sanger sequencing was performed to screen CNTNAP2 exons in the family, revealing a paternally inherited missense variant c.2752C > T, p.(Leu918Phe) in the proband (Fig. 1B). This variant is absent from the gnomAD dataset (https://gnomad.broadinstitute.org/variant/) and affects a conserved residue within the Laminin G-like (LG) 3 domain (GERP = 5.49). It is reported In ClinVar (allele ID 924741, https://www.ncbi.nlm.nih.gov/clinvar/variation/949154/) and predicted damaging by in silico tools (e.g., DANN, 0.9977; Mutation Taster, 1; CADD, 24.1). Both variants were absent in the proband's sibling. Further details are available in Supplementary Methods.
Rights and permissions
Open Access This article is licensed under a Creative Commons Attribution 4.0 International License, which permits use, sharing, adaptation, distribution and reproduction in any medium or format, as long as you give appropriate credit to the original author(s) and the source, provide a link to the Creative Commons licence, and indicate if changes were made. The images or other third party material in this article are included in the article's Creative Commons licence, unless indicated otherwise in a credit line to the material. If material is not included in the article's Creative Commons licence and your intended use is not permitted by statutory regulation or exceeds the permitted use, you will need to obtain permission directly from the copyright holder. To view a copy of this licence, visit http://creativecommons.org/licenses/by/4.0/. The Creative Commons Public Domain Dedication waiver (http://creativecommons.org/publicdomain/zero/1.0/) applies to the data made available in this article, unless otherwise stated in a credit line to the data.
Disclaimer:
This article is autogenerated using RSS feeds and has not been created or edited by OA JF.

Click here for Source link (https://www.biomedcentral.com/)