Oral self-care behavior and its influencing factors in a sample of school children from Central Iran – Archives of Public Health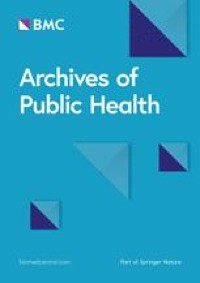 Participants and procedures
In this descriptive study, the statistical population consisted of all sixth-grade students in Saveh, Iran in 2019. The sample size was calculated 304 participants according to the ratio comparison formula and 20% prevalence of oral self-care behavior among this population [20], and considering the 95% confidence level (α = 0.05) with a precision of 0.04. The sample size increased to improve the study precision by 20%, in other words, a total of 368 students entered the study. We selected the students by the random multi-stage sampling from schools with sixth-grade primary grades. At the first stage, we prepared a list of all primary schools of Saveh from two municipal districts. At the next stage, 4 schools (2 girls' schools and 2 boys' schools) from each district and thus a total of 8 schools were selected by a simple random method. At the last stage and based on the attendance list, 46 sixth grade students from each school were selected by simple random sampling. The inclusion criterion of the study was that participants were currently enrolled in sixth-grade primary education and written informed consent was obtained from the parents of students. The exclusion criterion included the inability to brush and floss due to physical disability.
In order to complete the questionnaire (see below), we selected the students after coordination and obtaining permission from the Saveh University of Medical Science, school authorities, visiting the primary schools, and coordination with the principals of each school. We explained the research purpose and the method of responding to the questionnaire to the students. We emphasized the confidentiality of the information being gathered and the importance of honest answers. Then, after obtaining informed written consent from the parents of the students we gave the questionnaires to the students. They responded to the questionnaires by the self-report without the presence of teachers in a period of about 50 min.
Measures
A multi-section self-administered and anonymous questionnaire developed for the current study based on similar studies to collect the data [5, 6, 16].
The first part included five demographic questions and gathered information such as gender, family size, birth rank, and parents' literacy level.
The second part assessed oral care attitudes with 11 items and questions such as "If I brush my teeth every day, my smile looks more beautiful". We scored each item on a Likert scale (1 "strongly disagree" to 5 "strongly agree"), and overall scores on oral care attitudes ranged from 11 to 55. Higher scores indicated for favorable attitudes towards oral health behaviors.
The third section assessed Subjective Norms (SN) regarding oral health behaviors and had four questions (e.g., "Most people who are important to me [like my father, mother, friends, teacher, and dentist] think that I should brush my teeth every day"). The scores of this section were also Likert scale (1 "not true at all" to 5 "yes, absolutely true"), with total subjective norms scores ranging from 4 to 20, after reverse coding certain items. Higher scores suggested more perceived social pressure to engage in oral health behaviors.
The fourth section assessed PBC with 5 questions like "I am sure I can floss every night before bed". Each item was scored on a 5-point Likert scale from "I completely agree" = 5 to "I completely disagree" = 1. Therefore, the range of attainable scores of PBC was a score from 5 to 25. Higher scores indicated that the youth perceived a greater ability or self-efficacy to perform oral health behaviors.
The fifth section assessed intentions to engage in oral health behaviors with 4 questions such as "I am going to use dental floss in the next 2 weeks before going to bed". Each item was scored on a 5-point Likert scale (1 "very unlikely" to 5 "very likely"). Scores ranged from 4 to 20 with higher scores indicating greater intentions to engage in oral health behaviors.
The sixth section assessed action planning with 4 questions (e.g., "I plan on a time to brush my teeth") using a five-point Likert scale (1 "completely disagree" to 5 "completely agree"). Scores ranged from 4 to 20 with higher scores indicating greater engagement in action planning for oral health behaviors.
The seventh section assessed coping planning with 8 questions (e.g., "I have a specific program to deal with forgetting the brushing time") and also used a five-point Likert scale (1 "completely disagree" to 5 "completely agree"). Scores ranged from 8 to 40 with higher scores indicating greater engagement in coping planning for oral health behaviors.
The eighth section measured oral self-care behavior with 4 questions regarding the frequency of brushing, flossing, using mouthwash, and reasons to see a dentist. Scoring in the number of brushing times was as 1 = never to 4 = two or more times daily. For assessing frequency of flossing and mouthwash, respondents indicated: 1 "never" to 3 "once daily." For assessing reasons for visiting the dentist, respondents indicated: 1 "for pain," 2 "for checkup," and 3 for "regular checkup." A summed total oral self-care behavior score was also calculated and ranged from 4 to 13.
Validity and reliability
We assessed the overall questionnaire validity using the content validity method. The minimum acceptable amount of content validity rate (CVR) was 0.75 according to the panel of 8 experts. In the content validity index (CVI) estimation stage, 5 items which obtained scores of less than 0.70 were removed [21]. In the next stage, The construct validity of the tool was evaluated by conducting Exploratory Factor Analysis (EFA) and Confirmatory Factor Analysis (CFA). The result of EFA revealed a 7-factor solution containing 40 items (attitude, SN, PBC, intentions, action plan, coping plan and self-care). Average variance extracted of the seven -factor was 0.61. According to CFA results, the seven -factor model showed an acceptable fit (Table 1).
The reliability of the questionnaire was performed through Cronbach's alpha test with 20 students who were similar to the target population in terms of demographic characteristics but did not participate in the study. The internal consistency of the scale was surveyed using the Cronbach's alpha coefficients, and for all variables we found acceptable results (attitude =0.88, PBC = 0.84, subjective norms = 0.79, intention = 0.89, action plan = 0.78, coping plan = 0.80 and behavior = 0.75). In Iran, previous studies showed that reliability of the questionnaire has been satisfactory [5, 6, 16].
Statistical analysis
The Kolmogorov Smirnov test and histogram were employed to determine the normality of data distribution. Inferential statistical methods (independent t-test and one-way analysis of variance) were used for comparisons between groups. Correlation and multiple linear regressions were performed to test the relationships of extended TPB and the oral health-related behaviors. The assumptions of stepwise linear regression evaluated as follows: An analysis of residuals confirmed the assumptions of normality. The results of scatter plot confirmed the assumption of linear relationship between the dependent variable and each of the independent variables. Besides, it should be mentioned that Collinearity was checked and was negative. Data were analyzed using SPSS software Version 22.0 (SPSS Inc., Chicago, IL, USA). P-value less than 0.05 at the final stage was considered statistically significant.
Rights and permissions
Open Access This article is licensed under a Creative Commons Attribution 4.0 International License, which permits use, sharing, adaptation, distribution and reproduction in any medium or format, as long as you give appropriate credit to the original author(s) and the source, provide a link to the Creative Commons licence, and indicate if changes were made. The images or other third party material in this article are included in the article's Creative Commons licence, unless indicated otherwise in a credit line to the material. If material is not included in the article's Creative Commons licence and your intended use is not permitted by statutory regulation or exceeds the permitted use, you will need to obtain permission directly from the copyright holder. To view a copy of this licence, visit http://creativecommons.org/licenses/by/4.0/. The Creative Commons Public Domain Dedication waiver (http://creativecommons.org/publicdomain/zero/1.0/) applies to the data made available in this article, unless otherwise stated in a credit line to the data.
Disclaimer:
This article is autogenerated using RSS feeds and has not been created or edited by OA JF.

Click here for Source link (https://www.biomedcentral.com/)