Prelacteal feeding among infants within the first week of birth in eastern Uganda: evidence from a health facility-based cross-sectional study – International Breastfeeding Journal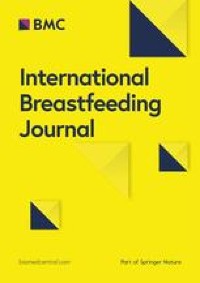 Study design and setting
This was a health facility-based cross-sectional study conducted between December 2020 and January 2021 at four health facilities with large patient numbers in Kamuli District. We preferred to conduct a health facility-based study since the majority of mothers in the community come to these study sites for delivery and immunization services, and because it was not logistically efficient to conduct a community-based study. Besides serving the majority of the population in the district, the health facilities are sites for most postnatal care visits. The district has a substantially higher number of newborn deaths which has been linked to prelacteal feeding [13]. For example, a review of data from the District Health Information System-2 or DHIS-2 for 3 years showed higher neonatal mortality rates of 6.57 deaths per 1000 live births compared to 6.5 deaths per 1000 live births at the national level in 2017/2018. For 2018/2019, there were 7.2 deaths per 1000 live births in the district versus 7.7 deaths per 1000 live births at the national level, while for 2019/2020, the district had 6.2 deaths per 1000 live births compared to 7.1 deaths per 1000 live births at the national level. The district also faces nutritional challenges [14]. Data further suggest that 37.1% of children below the age of five in the district are stunted, which is far beyond the national stunting rate of 29.0% [9]. Additionally, 22.7% of the children are underweight which is higher than the national average of 11.0%, and an estimated 16.7% of children are wasted which is more than 4-fold the national average at 4% [9]. With merely 36.6% of health facilities in the district with the capacity to manage childhood malnutrition, these nutritional health problems will continue to present real public health challenges [13].
The study sites included three public health facilities namely Kamuli General Hospital, Namwendwa Health Center IV, Nankandulo Health Center IV, and one private-not-for-profit health facility, Kamuli Mission Hospital. Kamuli District is located in East Central Uganda and has an estimated population size of 545,900 people [15]. Each health facility has a maternal and child health (MCH) clinic which offers antenatal care, delivery, and postnatal care services. Antenatal care services are provided daily to ensure service continuity. Mothers are encouraged to attend up to eight antenatal care visits throughout their pregnancy. At each visit, various services are provided including maternal-child health education and individual counseling. At each antenatal and postnatal care visit, women receive education and counseling about maternal nutrition, are assessed for nutritional status using mid-upper arm circumference and weights, and receive information about healthy breastfeeding and infant feeding practices. Iron and folic acid supplementation and deworming are prescribed per the national ANC guideline. After delivery, mothers are encouraged to initiate breastfeeding within the first hour of birth. Delivery services are provided 24 h a day, 7 days a week by midwives and/or doctors. Postnatal care services are provided at 6 h, 24 h, 6 days, 6 weeks, and 6 months after delivery.
Implementation of baby-friendly health facility initiative at the study sites
The study sites implement the baby-friendly health facility initiative (BFHI), a 10 step intervention initiated by the World Health Organization (WHO) and the United Nations Children's Emergency Fund (UNICEF) in 1991, which aims to promote, protect and support breastfeeding. The BFHI framework helps health facilities address breastfeeding practices that harm newborn babies [16]. BFHI largely emphasize the need for all pregnant women to receive information about the benefits and management of breastfeeding, supporting mothers with the initiation of breastfeeding within an hour of birth, and not giving food or drink other than breast milk to newborn babies unless medically indicated.
If well implemented, the BFHI framework is anticipated to tackle some of the factors which promote prelacteal feeding and thus contribute to promoting appropriate infant and young child feeding practices among breastfeeding mothers. Uganda adopted the BFHI framework but added six more steps to ensure mothers are supported to acquire skills to exclusively breastfeed for 6 months. Health facilities are assessed and supported to achieve these 16 steps through internal and external assessment and support mechanisms. However, not much progress has been registered on the implementation of the BFHI steps, especially steps focusing on prelacteal feeding practices due to limited funding and knowledge inadequacy among health workers [17].
Study population and sampling
The study population consisted of mother-baby pairs aged 4–42 days attending postnatal care and immunization clinics at the respective study sites. We excluded newborn babies whose biological mothers had died because we deemed that the practice of prelacteal feeding would be almost inevitable. Since prelacteal feeding occurs within 0–3 days, we excluded mother-baby pairs within this period. The mother-baby pairs were sampled via systematic and simple random sampling approaches. First, we proportionally allocated the required sample size to each of the four study sites based on the number of deliveries. We then employed systematic random sampling to establish the sampling interval at each of the study sites. To do so, we reviewed records to establish the number of mother-baby pairs present at the postnatal and immunization clinics on a particular day and this formed our sampling frame. We assigned unique codes to each mother-baby pair in the sampling frame. We divided the number of postpartum mother-baby pairs at each clinic by the site's sample size to obtain the sampling interval. We then used a simple random sampling approach, a lottery method, with a random start to select the first and subsequent participants until all the required number of participants was reached.
Study variables and measurements
The dependent variable was prelacteal feeding measured as giving anything to eat or drink to a newborn baby other than breast milk within the first 0–3 days of life, a definition based on the Uganda Demographic Health Survey [9] and previous literature [3, 6, 18]. The independent variables included maternal age, ethnicity, level of education, type of employment, marital status, religion, and HIV status established from health facility records, and the number of antenatal care visits at the recent pregnancy. Others included birth order, place and mode of delivery, maternal residence, and knowledge about the risks of prelacteal feeding. We also collected data on the level of health facility, place of recent antenatal care attendance, and the estimated distance from the place of residence to the health facility.
Data collection and processing
Data were collected within the health facility premises in a quiet and convenient room using a pre-tested researcher-administered questionnaire in the local language, Lusoga. On average, the administration of the questionnaire lasted 30–45 min. Each filled questionnaire was checked for completeness in real-time before the data were entered in Epi-Data version 3.1. We employed data quality control measures impregnated in Epi-Data such as range and legal values, skips, and alerts to ensure data integrity.
Sample size estimation and statistical analysis
Two approaches were used to establish the required sample size. Based on the prevalence of prelacteal feeding in a previous Ugandan study, a sample size of 377 participants was required using Kish and Leslie formula when the following assumptions were made: 57% prevalence of prelacteal feeding among children aged 6–24 months [19], 95% confidence level, and 5% maximum allowable error. To determine factors associated with prelacteal feeding, the sample size was estimated using the two proportions sample size estimation approach. Based on estimates from a previous cross-sectional study in South Sudan [20], half of the postpartum mothers who never received breastfeeding counseling engaged in prelacteal feeding while among those who received breastfeeding counseling, 60% had engaged in prelacteal feeding. We estimated that 875 participants would be needed to ensure 80% statistical power in detecting a true difference at a 95% confidence level. Accordingly, the study used the large sample size to minimize biased estimation of the measure of effect.
Concerning statistical analysis, in the univariate analysis, we computed frequencies and percentages for categorical data. For numerical data, we computed means with standard deviation when the data were not skewed, otherwise, the median with interquartile range was computed. In the bivariate analysis, we compared differences in prelacteal feeding with the categorical independent variables using the Chi-squared test for larger cell counts, otherwise, Fisher's exact test was employed for smaller cell counts. Mean differences in prelacteal feeding with numerical independent variables were established using the Student's t-test when the data were normally distributed, otherwise the Wilcoxon-rank sum test was used. The level of statistical significance was set at less than 0.15 to avoid residual confounding.
In the multivariate analysis, we computed both unadjusted (crude) and adjusted prevalence risk ratios with the corresponding 95% confidence intervals using modified Poisson regression analysis with robust error variance for all statistically significant variables at the bivariate analysis. The prevalence risk ratio (PRR) was preferred over the odds (OR) to minimize overestimation since the outcome of interest, prelacteal feeding, was large [21]. Robust error variance was used to ensure convergence and avoid mild violations of the assumptions of Poisson regression as recommended by Trivedi and Cameron [22]. Variables with p < 0.05 were considered statistically significant. We assessed the model fitness using Akaike Information Criteria (AIC), Hosmer-Lemeshow Chi-square goodness-of-fit statistics, and link test. In the multivariate analysis, we dropped variables that did not improve the fit of the model based on the log-likelihood. The analysis was conducted in Stata version 15.
Ethical issues
Our study was reviewed and approved by Clarke International University Research Ethics Committee (reference # CLARKE-2020-23). Administrative approval was obtained from the District Health Office, Kamuli district, and the Heads of the respective study sites. All the participants were informed about the purpose of the study, confidentiality of information, privacy, the benefits and potential risks involved in the study, and the potential to withdraw at any time. The participants provided written or thumb-printed informed consent before participation. Access to data was restricted to the study team and data were safely secure in a password-protected computer accessible by only the data analyst. Besides the use of unique codes on the questionnaire, data about personal identifiers such as names and physical addresses were not collected.
Rights and permissions
Open Access This article is licensed under a Creative Commons Attribution 4.0 International License, which permits use, sharing, adaptation, distribution and reproduction in any medium or format, as long as you give appropriate credit to the original author(s) and the source, provide a link to the Creative Commons licence, and indicate if changes were made. The images or other third party material in this article are included in the article's Creative Commons licence, unless indicated otherwise in a credit line to the material. If material is not included in the article's Creative Commons licence and your intended use is not permitted by statutory regulation or exceeds the permitted use, you will need to obtain permission directly from the copyright holder. To view a copy of this licence, visit http://creativecommons.org/licenses/by/4.0/. The Creative Commons Public Domain Dedication waiver (http://creativecommons.org/publicdomain/zero/1.0/) applies to the data made available in this article, unless otherwise stated in a credit line to the data.
Disclaimer:
This article is autogenerated using RSS feeds and has not been created or edited by OA JF.

Click here for Source link (https://www.biomedcentral.com/)