Rebound iritis with a well-circumscribed anterior chamber fibrin mass after uncomplicated cataract surgery – Journal of Ophthalmic Inflammation and Infection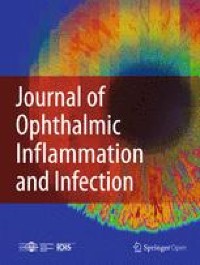 The post-operative anterior segment mass reported above most likely represents a fibrinous exudate secondary to rebound iritis. Rebound and persistent iritis are well-known entities that may occur after cataract surgery. Neatrour et al [1] reported that pupil expansion devices significantly increase the risk of persistent (> 1 month) post-operative iritis.
Fibrinous exudates are occasionally encountered after intraocular surgery, more commonly after pars plana vitrectomy [2,3,4,5]. Fibrin reaction has also been reported after anterior segment surgery involving iris manipulation in patients on long-term miotic therapy and in uveitic patients [4]. Following routine cataract surgery, Miyake et al [6] reported a 4.4% overall incidence of pupillary fibrin membrane formation in Japanese patients, typically around post-operative day five.
The pathophysiology of post-operative fibrin clots is thought to be secondary to a transient lowering of IOP and disruption in the blood-aqueous barrier during CE, resulting in leakage of fibrinogen-rich fluid from arterial plasma into the AC, eliciting a fibrinoid reaction [7,8,9]. If untreated, this fibrin can consolidate and result in a dense pupillary membrane. The low IOP seen in this patient was likely secondary to ciliary body shutdown in the setting of anterior uveitis.
To the best of our knowledge, this is the first report in the ophthalmic literature of a subacute post-operative anterior uveitic mass in such a well-circumscribed configuration that completely resolved after a short course of topical steroids. We surmise that this mass represents a fibrinous exudate in the setting of rebound iritis after cataract surgery involving a pupil expansion device. Ophthalmologists should be aware of this unique presentation after intraocular surgery.
Rights and permissions
Open Access This article is licensed under a Creative Commons Attribution 4.0 International License, which permits use, sharing, adaptation, distribution and reproduction in any medium or format, as long as you give appropriate credit to the original author(s) and the source, provide a link to the Creative Commons licence, and indicate if changes were made. The images or other third party material in this article are included in the article's Creative Commons licence, unless indicated otherwise in a credit line to the material. If material is not included in the article's Creative Commons licence and your intended use is not permitted by statutory regulation or exceeds the permitted use, you will need to obtain permission directly from the copyright holder. To view a copy of this licence, visit http://creativecommons.org/licenses/by/4.0/.
Disclaimer:
This article is autogenerated using RSS feeds and has not been created or edited by OA JF.

Click here for Source link (https://www.springeropen.com/)