Recovery of strain-resolved genomes from human microbiome through an integration framework of single-cell genomics and metagenomics – Microbiome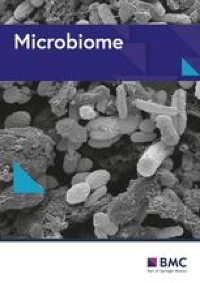 Overview of the single-cell genomics and metagenomics integration framework
For conventional metagenomic phylogenetic classification tools [24, 25] and metagenome binners [10,11,12], allocating contigs to bins from complex microbial communities in the absence of known microbial genome information as teaching data for classifying closely related species or strains is a challenge. Our single-cell genomics and metagenomics integration framework, called SMAGLinker, uses SAGs, which are also produced from the same sample, as teaching data for metagenome binning (Fig. 1). SAGs of uncultured microbes serve as ideal references for metagenome binning from the community that includes the microbes without reference genomes. These SAGs were obtained using the SAG-gel platform [22, 26], which helps obtain uncontaminated SAGs in a high throughput manner with the aid of a microfluidic droplet format. Multispecies SAGs obtained by assembling single-cell genomes are grouped into individual strains using the ccSAG method [18]. Composite SAGs (CoSAGs) are constructed by re-assembling (co-assembling) single-cell reads (SRs) recognized as identical strains. Based on genome completeness (>50%) and contamination level (<10%), non-redundant SAGs (nrSAGs) are collected for use as binning references. In addition, metagenomic reads (MRs) are obtained from the same sample and are assembled into metagenomic assembled contigs (MAs). The contigs in MAs are mapped to the contigs in nrSAGs to allocate contigs to single cell genome-guided bins (sgBins). Finally, paired nrSAGs and sgBins at the strain level are merged, to plug gaps for each other and extend contig length. The merging of sgBin and nrSAG was performed through guided scaffolding. The more complete genome between sgBin and nrSAG was selected as the primary assembly and the other as the secondary assembly to complement it. To reduce the number of misassemblies and mismatches after merging, contigs larger than 10 kbp were used as secondary assemblies. We used the HaploMerger2 scaffolding tool [27] for merging overlaps >100 kbp with good accuracy. Thus, the integrated sc-metagenome draft genomes are output in two formats: single-cell genome-guided MAG (sgMAG), which is an sgBin-based draft genome complemented with single-cell genome contigs, or metagenome-guided SAG (mgSAG), which is an nrSAG-based draft genome complemented with metagenome contigs.
Evaluation of single-cell genome and metagenome assemblies
To confirm assembled sequence accuracy in nrSAGs and MAs, single-cell genomic and metagenomic sequencing were performed with the same cell mock community containing 15 bacterial species including Bacteroides uniformis, Bifidobacterium pseudocatenulatum, Clostridium clostridioforme, Cutibacterium acnes subsp. acnes, Escherichia coli K-12, Parabacteroides distasonis, Staphylococcus epidermidis, Streptococcus mutans, Acinetobacter radioresistens, Comamonas terrigena, Bacillus subtilis subsp. subtilis, Clostridium butyricum, Corynebacterium striatum, Lactobacillus delbrueckii subsp. delbrueckii, and Pseudomonas putida. (Additional file 1: Table S1). In total, we obtained 48 SRs and one MR with total read lengths of 3.9 and 2.6 Gb, respectively (Additional file 2: Table S2).
After performing the assembly using SPAdes, 15 nrSAGs, which covered all species in the mock community, were obtained. Average completeness improved from 33.5% to 66.6% from SAG to CoSAG, according to taxonomy identification (Additional file 3: Table S3), with low contamination rates of 0.3% and 0.76%, respectively (Additional file 4: Table S4). For 14 nrSAGs, approximately ≥98.5% of the total length of each was correctly mapped to reference genomes. In Mock-C00006 (L. delbrueckii), some contigs (8.5% of the total length) were mapped to other microbial genomes. The original SAGs were obtained from physically isolated single-cells in gel capsules [22]; however free DNA was randomly captured and amplified simultaneously. The unmapped contigs could have been derived from these free DNA fragments. We confirmed that 1008 contigs of 1016 MA contigs were mapped to single reference genomes (Additional file 5: Fig. S1). In addition, there were no 16S rRNA gene sequences for B. uniformis and E. coli in MA, whereas all nrSAGs remained individual 16S rRNA sequences (Additional file 5: Fig. S2). Overall, both single-cell genomics and metagenomics revealed high sequence accuracy during de novo assembly and the presence of sequences sufficiently covers each microbial genome, including highly conserved genes such as the 16S rRNA gene. Thus, we considered the subsequent contig binning step crucial for reconstructing genomes accurately from the metagenomic data set.
Comparing characteristics of single-cell genome-guided bins with conventional metagenomic bins
We evaluated the characteristics of bins collected using sc-metagenomics with SMAGLinker and metagenomics-alone approaches with conventional metagenome binners (Fig. 2). CONCOCT [10], MetaBAT 2 [11], and MaxBin 2 [12], were used to construct bins; subsequently, DAS_Tool [13] was used to obtain refined bins. Based on 15 reference genomes (Additional file 1: Table S1), we assessed the taxa of each bin and estimated the total size of contigs incorrectly assigned to different bacterial bins, namely "incorrectly binned contig", and contigs unbinned to any reference genome, namely "unbinned contig" (Fig. 2a). All contigs were either assigned to one bin or left unassigned according to the binning algorithm; no contig was assigned to more than one bin by any binning tool and SMAGLinker. Because >99% of the contigs were mapped to the reference genome, total MA length of unbinned contigs represents the size of the sequences that should have been incorporated but were missed during binning. SMAGLinker had the smallest incorrectly binned contig at 20 kbp, followed by MetaBAT 2 (181 kbp). CONCOCT had the smallest unbinned contig length at 1kbp. The unbinned contig length for SMAGLinker was 892 kbp. In sc-metagenomics with SMAGLinker, total lengths of unbinned contigs against target sgBins were inversely correlated with the completeness of the corresponding nrSAG (Fig. 2b), suggesting that nrSAG completeness strengthens the adequacy of the contig assignment to target taxa bins. For all tools, incorrectly binned and unbinned contigs tended to have shorter sequence lengths (<10 kbp) (Additional file 5: Fig. S3). Conventional metagenome binners showed high values of either incorrectly binned or unbinned contigs (Fig. 2a), confirming two types of algorithms: one that actively allocates short contigs, while allowing for incorrect allocation (MaxBin 2 and CONCOCT), and the other that allocates contigs carefully to avoid inclusion of incorrect short sequences (DAS_Tool and MetaBAT 2). Furthermore, we found that even long contigs (>100 kb) were incorrectly binned or not assigned to any bin in CONCOCT and MetaBAT 2. In MetaBAT 2, the longest and the second longest contigs derived from B. subtilis were not binned, resulting in the total length of unbinned contigs being significantly longer than that derived using other tools. SMAGLinker improved overall binning accuracy because it assigned shorter contigs with higher accuracy than other methods (Additional file 5: Fig. S3).
We calculated F1 scores, a harmonic mean of precision and recall, to evaluate the accuracy of bins against true reference genomes (Fig. 2c). Precision depends on a small number of false-positive contigs (incorrectly binned contigs), that is, allocation of contigs from other species in the bin. Although forcing contigs into bins helps improve completeness, it involves the risk of including false-positive contigs, increasing contamination rates. SMAGLinker demonstrated high-precision bins for all 15 reference sequences. High-precision bins (F1 score >0.9) for SMAGLinker, DAS_Tool, MetaBAT 2, MaxBin 2, and CONCOCT were 15, 14, 8, 13, and 12, respectively; all metagenome binners, excluding MetaBAT 2, had comparable high-precision values. By contrast, recall value depends on the true completeness of the bacterial genome, ignoring incorrectly binned contigs. SMAGLinker demonstrated the highest F1 scores among all reference genomes owing to the highest recall value. In this test, SAG qualities were limited to low-quality (LQ) to medium-quality (MQ), which were not the best conditions to guide binning; however, SMAGLinker had the best binning accuracy. Thus, single-cell guided binning in the sc-metagenomics approach helps in the accurate and efficient allocation of contigs into multispecies bacterial genomes compared to conventional metagenomics-alone approach.
Integration of SAGs and MAGs to improve the quality of draft genomes
To compensate for the respective incompleteness of SAGs and MAGs, we tested a procedure for constructing draft genomes by integrating paired SAGs and metagenomic bins. The merging of paired nrSAGs and sgBins into sgMAG or mgSAG improved several genome assembly quality metrics, such as completeness and N50, in several microbial communities, including human gut and skin microbiota (Fig. 3a, b). Although the completeness of either nrSAG or sgBin was low (average: 74.5%), that of sgMAG and mgSAG was much improved (average: 93.6%) (Fig. 3a). N50 metrics of most nrSAGs (average: 48.2 kb) improved after merging nrSAG and sgBin (average: 87.7 kb), except in the case of low completeness of sgBins (Fig. 3b). Low completeness of sgBins occurred often, particularly in skin microbiota (average completeness: 23.1%). This may because metagenomic data cannot produce qualified MAs owing to interfering factors, such as human DNA contamination (up to 10% of total MRs) and high within-species diversity in skin microbiota, and the presence of few corresponding contigs at the strain level between SAGs and MAs. Thus, to recover sgBins with high completeness, it is necessary to increase the MA mapping rate by improving its breadth of coverage in assembled contigs and by increasing the SAG repertoire corresponding to MAs. In addition, rRNA and tRNA gene sequences were often compensated from nrSAGs (recovery rate of rRNA: 5S: >53.1%, 16S: >94.1%, and 23S: >98.5% in nrSAGs; and 5S: >7.5%, 16S: >13.4%, and 23S: >14.9% in sgBins) (Fig. 3c, d), thus merging of nrSAGs and sgBin is important for incorporating phylogenetic information of draft genomes.
Recovery of HQ draft genomes from multiple microbial communities through the sc-metagenomics approach
We assessed the quality of all draft genomes according to the Genomic Standards Consortium[9]. From the mock community sample, SMAGLinker, DAS_Tool, and MaxBin 2 constructed MAGs corresponding to 15 reference genomes, whereas MetaBAT 2 and CONCOCT constructed more than 15 MAGs, including several LQ MAGs (Fig. 4a). Thus, the risk of creating unreliable MAGs must also be deliberated when considering the conventional metagenomics-alone approach. SMAGLinker uses nrSAG taxonomy to identify representative species and extract contigs in MAs necessary for binning such that the risk of producing artificial MAGs that cannot be present in actual samples is diminished. Regarding draft genome quality, SMAGLinker produced 13 HQ draft genomes, with better accuracy than other metagenomics-alone approaches (Fig. 4a). For non-chromosomal elements, all plasmid sequences existed in MA; however, these were lost in the plasmid-containing bacterial genomes after metagenomic binning (Additional file 5: Fig. S4). Our sc-metagenomics approach demonstrated constant and higher plasmid coverage (97.2%) than other metagenomics-alone approaches with conventional binners (50.6%–74.5%) in 6 plasmid-harboring bacterial species, including B. subtilis, C. butyricum, S. epidermidis, A. radioresistens, B. uniformis, and E. coli.
To evaluate the performance of SMAGLinker in human gut and skin microbiota, three SR (each 96 SR, 100 Mb/SR) and three MR (each 6 Gb) sets were used to obtain draft genomes with SMAGLinker and other binners. Here, MQ and HQ draft genomes were considered for comparison. The sc-metagenomics approach with SMAGLinker constructed the largest number of genomes, with a total of 103 (21 HQ) and 45 (10 HQ) genomes from the gut and skin, respectively (Fig. 4a and Additional file 6: Table S5). For gut microbiota, no HQ genome was constructed using metagenomics-alone approaches with conventional binners. Although some draft genomes exhibited >90% completeness and <5% contamination using metagenomics-alone approaches, recovery of rRNA and tRNA sequences was a challenge (Fig.4 b,c). The sc-metagenomics approach with SMAGLinker demonstrated consistently high performance in the recovery of rRNA (5S: >42.7%, 16S: >61.2%, and 23S: >66.0%) and tRNA (average: 17.3 ± 2.9) in each microbial sample. SMAGLinker used a large number of sequencing reads by incorporating single-cell genomics and metagenomics; however, trends were unchanged, even when the read number used for other binners was equal to that when SMAGLinker was used (Additional file 5: Fig. S5).
Coverage of sc-metagenomics-derived draft genomes against bacterial diversity
To determine the extent to which the constructed genome covered all metagenomic sequence fractions, MRs were mapped to their respective genomes and mapping rates were calculated. For MAGs constructed using MaxBin 2 and CONCOCT, >90% of MRs were mapped (Fig. 5a). These high mapping rates were considered owing to their algorithm trends of unbinned contig reduction (Fig. 2a). The MR mapping rates in SMAGLinker were in the middle of all binners, ranging from 78.9% to 89.5% for gut microbiota and 91.3% to 95.6% for skin microbiota. Regarding bacterial diversity, sc-metagenomics with SMAGLinker detected more bacterial genomes than metagenomics alone approaches with other binners, with 54 and 9 genera in gut and skin microbiota, respectively (Fig. 5b, c). We considered that the sc-metagenomics could cover more metagenomic sequence fraction and obtain diverse microbial genomes by increasing the number of obtained SAGs from the same samples and the number of detected taxa.
Strain-resolved genome analysis based on sc-metagenomics for revealing intra-species diversity
Genomic classification of closely related species and subspecies from the microbial community is important for discussing intra-species diversity. We assessed the correspondence between MAG and SAG sequences of the same species to evaluate separation accuracy of closely related genomes.
In skin microbiota, all metagenome binners output one draft genome of Staphylococcus hominis, whereas sc-metagenomics output two draft genomes of S. hominis (S. hominis BBMGS-S01-101 and S. hominis BBMGS-S01-100 mgSAGs). We hypothesized that conventional metagenomics-alone approaches had difficulty in binning contigs to two different strains in the same skin microbiota sample. We calculated average nucleotide identity (ANI) of the two strain genomes obtained using SMAGLinker and other metagenome binners against the original SAGs (Fig. 6a) and confirmed that ANI showed >97% identities. We found that although the presence of two strains is evident at the single-cell level, sc-metagenomics could output strain-resolved genomes, and conventional metagenomics produced chimeric MAGs, which demonstrated increased similarity to only one strain (S. hominis BBMGS-S01-100). Notably, we found plasmids in MAGs; however, plasmid assignment to mgSAGs indicated that these two strains had specifically different plasmids (Fig. 6b). Thus, our sc-metagenomics framework will aid in strain-resolved binning and plasmid-host allocation to increase, understanding of intra-species diversity and linking mobile gene elements to hosts.
Validation of aggregate sequences originating from multiple distinct species
SAG can be used as a self-check reference to evaluate the accuracy of conventional MAG binning results, and possibly to remove unsuitable contigs such as aggregate sequences from multiple species. A simple way to detect incorrect sequences in MAG is to map corresponding SAG sequences to MAGs (Fig. 6c). For S. hominis obtained from human skin microbiota, we screened SAG sequences that were mapped on MAGs obtained with conventional binners. This result indicated that S. hominis MAGs showed different genome sizes with different metagenome binners (1.4 to 3.2 MB) while showing high levels of completeness (83% to 94%), suggesting a substantial lack or excess of genome sequence, and some contaminating sequences from other Staphylococcus species (S. epidermidis) in all MAGs (55.6 kb–146.8 kb). In particular, the longest contaminated contig (44 kb) in MAGs obtained using DAS_tool and MaxBin 2 showed homology (identity 98.5%) to the pSE2 plasmid of S. epidermidis (CP066374). The genome sizes of publicly available S. hominis isolate genomes are 2.1–2.3 Mb and are similar to the draft genome obtained with SMAGLinker. BBMGS-S01-101 and BBMGS-S01-100 exhibited some common sequences between S. hominis and S. epidermidis; however, there were no obvious interspecies aggregate sequences. Using SAGs as references, contigs that have been erroneously removed or included by conventional binners can be correctly assigned, suggesting that even uncultured bacterial genomes can be validated at the strain-level.
Rights and permissions
Open Access This article is licensed under a Creative Commons Attribution 4.0 International License, which permits use, sharing, adaptation, distribution and reproduction in any medium or format, as long as you give appropriate credit to the original author(s) and the source, provide a link to the Creative Commons licence, and indicate if changes were made. The images or other third party material in this article are included in the article's Creative Commons licence, unless indicated otherwise in a credit line to the material. If material is not included in the article's Creative Commons licence and your intended use is not permitted by statutory regulation or exceeds the permitted use, you will need to obtain permission directly from the copyright holder. To view a copy of this licence, visit http://creativecommons.org/licenses/by/4.0/. The Creative Commons Public Domain Dedication waiver (http://creativecommons.org/publicdomain/zero/1.0/) applies to the data made available in this article, unless otherwise stated in a credit line to the data.
Disclaimer:
This article is autogenerated using RSS feeds and has not been created or edited by OA JF.

Click here for Source link (https://www.biomedcentral.com/)