Sarcopenia index based on serum creatinine and cystatin C predicts the risk of postoperative complications following hip fracture surgery in older adults – BMC Geriatrics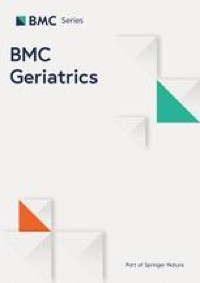 In this study, we found a higher SI was independently associated with a lower risk of pneumonia after joint replacement surgery. This is the first study to examine the role of SI in predicting postoperative complications among patients who underwent hip fracture surgery. In addition, we reported stratified results according to type of hip fracture surgery.
The rate of postoperative pneumonia was similar to that reported in previous studies [12,13,14]. Previous studies have shown that postoperative pneumonia is an important cause of death after fracture surgery. Lawrence et.al. [15] found that 14% of older hip fracture patients with pulmonary infections died within 30 days, while for those non-pulmonary infections, the mortality rate was only 1.7% within 30 days. Another study determined that the risk of death was 7.36 times higher in patients with pulmonary infections after hip fracture relative to patients without pulmonary infection [16]. Thus, clinicians should focus on pneumonia in these patients in an effort to reduce mortality rates. Respiratory muscle strength can regulate coughing effectively to clear the airway [17] and pneumonia is more likely to occur if the muscle mass is reduced. A previous study showed that patients with sarcopenia have a higher risk of pneumonia [18]. We found that the SI can predict the risk of pneumonia in this patient sample, that is, a higher SI was independently associated with a lower risk of pneumonia after hip fracture surgery in the joint replacement group. Therefore, we believe that the SI is an effective surrogate for sarcopenia in predicting postoperative complications.
However, our results cannot be generalized to the patients with internal fixation. The possible reason is that there are more factors influencing the relationship between SI and pneumonia in the internal fixation group than in the joint replacement group. These factors including but are not limited to insufficient physical activity. Compared with patients undergoing joint replacement, patients undergoing internal fixation surgery spend more time in bed with analgesia and pain. Postoperative pneumonia is usually associated with prolonged bed rest, sedation and pain. Since patients are immobile for a long time after surgery, this often leads to insufficient lung expansion, which in turn leads to atelectasis, making it difficult to clear lung secretions, and the presence of sedation or pain also makes it difficult to clear lung secretions[19]. But we still need a larger sample to confirm our findings.
A systematic review and meta-analysis has shown that sarcopenia and heart failure often coexist, with the prevalence of sarcopenia in heart failure patients ranging from 10 to 69%. Both sarcopenia and heart failure appear to have similar pathogenetic pathways [20]. However, previous studies have focused on chronic heart failure. In the present study, we did not find an association between SI and heart failure after hip fracture in older adults. The possible reason is that postoperative heart failure in our study is relatively acute, largely related to surgical stress, inappropriate fluid administration, blood loss, transfusion, or the preoperative discontinuation of diuretics [19].
Lieffers et al. reported that muscle mass loss could predict the postoperative incidence of urinary tract infection [21]. However, we detected no correlation between SI and urinary tract infection rates. This may be because the incidence of postoperative urinary tract infections in our study was very low, to the extent that the present study is underpowered.
Impaired wound healing is a common cause of wound-related complications. Decreases in skeletal muscle mass have been shown to be correlated with a poorer prognosis in surgical patients, resulting in increased rates of postoperative complications, including infections and poor wound healing [22]. Achim et al. [23] retrospectively reviewed the medical charts of 70 patients with squamous cell carcinoma (SCC) and found muscle mass loss to be an independent negative prognostic indicator associated with the development of wound complications after total laryngectomy. As such, they suggested that there may be value in measuring loss of muscle mass in patients prior to surgery, given that this may be a modifiable risk factor. In our study, 3.6% of patients exhibited non-grade A healing although there was no correlation between SI and non-grade A healing. This may be because we did not conduct a detailed classification of wound healing, instead of separating patients into grade A healing and non-grade A healing status cohorts. Our sample size was also limited, and we will need to expand these analyses in the future.
There are multiple limitations to this study. First, design is one of the main limitations of research. This study was carried out in a single institution with a limited sample size and was a retrospective study, which resulted in inevitable selection bias and limited its external validity. Second, we could not assess the actual residual muscle mass in these patients using the DXA or BIA approaches due to a lack of specific equipment. As such, the relationship between residual muscle mass and SI in hip fracture patients was not studied in this paper. Third, the number of events for some postoperative complications and the sample size were small. The conclusion of the present study needs to be confirmed by studies with larger sample sizes.
Rights and permissions
Open Access This article is licensed under a Creative Commons Attribution 4.0 International License, which permits use, sharing, adaptation, distribution and reproduction in any medium or format, as long as you give appropriate credit to the original author(s) and the source, provide a link to the Creative Commons licence, and indicate if changes were made. The images or other third party material in this article are included in the article's Creative Commons licence, unless indicated otherwise in a credit line to the material. If material is not included in the article's Creative Commons licence and your intended use is not permitted by statutory regulation or exceeds the permitted use, you will need to obtain permission directly from the copyright holder. To view a copy of this licence, visit http://creativecommons.org/licenses/by/4.0/. The Creative Commons Public Domain Dedication waiver (http://creativecommons.org/publicdomain/zero/1.0/) applies to the data made available in this article, unless otherwise stated in a credit line to the data.
Disclaimer:
This article is autogenerated using RSS feeds and has not been created or edited by OA JF.

Click here for Source link (https://www.biomedcentral.com/)