The use of patient-reported outcome measures in primary care: applications, benefits and challenges – Journal of Patient-Reported Outcomes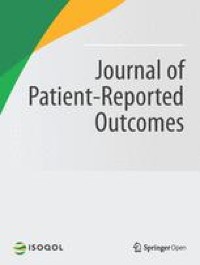 In response to the need for accountability, performance measurement and quality improvement, PROMs were largely implemented in PCNs to capture the patient's perspective alongside other outcomes. In 2013, a set of common indicators were included in Alberta PCNs' grant agreements with Alberta Health; the indicator guidance included requiring the EQ-5D be completed and reported as "percentage of patient with chronic condition who report maintaining or improving quality-of-life as measured by the EQ-5D" [3]. However, PCNs vary greatly in their implementation of PROMs, including the selection, administration, data use and reporting of PROMs. For this reason, we outline here only four examples of implementation, and discuss the benefits and challenges broadly (Table 1).
For PCNs, both condition specific and generic PROMs can be used simultaneously for specific patient populations or conditions (e.g., mental health) or for the general population (e.g., EQ-5D-5L) depending on the purpose or goal of the measurement. Use of PROMs in PCNs has evolved from a singular clinical usage into combinations of PROMs administered to primary care patients with chronic, complex, and comorbid conditions, at multiple timepoints to demonstrate change.
PROMs used in PCNs vary greatly across Alberta. Currently, 29 out of 41 PCNs are registered and licensed to use the EQ-5D, often in combination with a disease or condition specific measure. These 29 PCNs are from a variety of geographical areas, both urban and rural settings, with a varied population size and distribution. Many PROMs are used for a particular program and others for routine outcome measurement across the PCN. Some PCNs share programming and therefore outcome measurement, but often the selection, implementation (including training and administration procedures) and reporting of PROMs are unique to the PCN. Implementation strategies and administration vary across PCNs, depending on the purpose and selected PROM. In program evaluation the majority of PCNs use paper-based tools and measure outcomes pre and post program, although many are shifting to online capture.
The ability for PCNs to use and report PROMs data differs across Alberta, and is based on the size and capacity of the PCN. Although PROMs can be employed at the micro, meso and macro levels in primary care (Fig. 1), many do not use and report data at all three levels. For micro level applications, PROMS are effective tools for driving clinical conversations with patients. Although the benefit to enhancing patient-provider communication has been well documented [13], there is a need for further research on the effects of micro level PROMs applications on direct clinical outcomes in primary care. For macro level applications, comparing to provincial norms requires aggregating data across the PCN patient population and a high degree of analytical capacity. PROMs are well used in research and clinical care; however, their use in primary care and program evaluation in Alberta is new.
Rights and permissions
Open Access This article is licensed under a Creative Commons Attribution 4.0 International License, which permits use, sharing, adaptation, distribution and reproduction in any medium or format, as long as you give appropriate credit to the original author(s) and the source, provide a link to the Creative Commons licence, and indicate if changes were made. The images or other third party material in this article are included in the article's Creative Commons licence, unless indicated otherwise in a credit line to the material. If material is not included in the article's Creative Commons licence and your intended use is not permitted by statutory regulation or exceeds the permitted use, you will need to obtain permission directly from the copyright holder. To view a copy of this licence, visit http://creativecommons.org/licenses/by/4.0/.
Disclaimer:
This article is autogenerated using RSS feeds and has not been created or edited by OA JF.

Click here for Source link (https://www.springeropen.com/)