Umbilical hernia repair and recurrence: need for a clinical trial? – BMC Surgery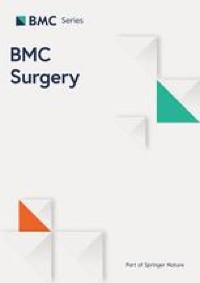 This study reviewed 646 articles of which 10 were found to meet the inclusion criteria as shown in the PRISMA flow chart, Fig. 2.
The presence of multiple linea alba defects was not reported in any of the papers however Kauffman in a randomized control trial of 300 patients undergoing UH repair described in their methodology that they excluded 6 patients from their study due to them having multiple defects [12].
There were 17 factors reported to influence recurrence rates as outlined in Table 1.
The incorporation of mesh augmentation into the field of hernia surgery has become widespread, the effect of mesh on recurrence rates and its utilization based on the size of the defect was discussed in 6 papers. Christoffersen in a study of 1313 patients described an overall recurrence rate of 18% for small umbilical hernias < 2 cm. Mesh repair had a significantly lower recurrence rate of 12% compared to 21% in primary repair. At an average of 55 months follow up the recurrence rate was 21% for primary repair and 10% for mesh repair p = 0.001[13]. Kaufmann in their study of 300 patients, reported a cumulative reduction in recurrence from 11.4 to 3.6% when mesh was used. Subgroup analysis of 1–2 cm and 2–4 cm defects showed that irrespective of size, mesh augmentation had lower recurrence rates [12]. Shankar in their study of 332 participants report an overall recurrence rate of 6% and found no difference based on the size of the defect [14].
Iatrogenic enlargement of small defects to allow for mesh placement was not found on subgroup analysis to be associated with an increased recurrence [15]. Donovan in their cohort study of 979 patients reported no difference in recurrence rates between hernia size groups ranging between < 1 cm, 1–1.4 cm, 1.5–1.9 cm, 2–2.4 cm p = 0.957. However they reported that in defects > 1.5 cm repaired with primary closure, the recurrence rate was 7.3% p = 0.0442, which on multivariate analysis was seven times greater than when mesh was used HR 6.79 [2.20–20.92] [16].
On the other hand, Winsnes not only found that there was no difference in recurrence if a mesh were used, but the complication rate increased significantly [17]. A failing of these mesh/non-mesh studies is the lack of documentation of the presence or absence of multiple defects.
The effect of body mass index (BMI) on recurrence was evaluated in 5 studies with inconclusive causal association to recurrence. A retrospective cohort study of 332 patients found that on multivariate analysis obesity is associated with increased risk of recurrence (OR 3.3 CI 95% 1.0–10.1) [14]. A prospective cohort study of 1125 patients found no statistical difference between BMI subgroups on univariate analysis (p = 0.057) however on multivariate analysis every 1 kg/m2 in BMI increase was associated with about a 9% increased risk of recurrence (p = 0.0072) [16]. Elevated BMI in a cohort study of 306 patients on univariate analysis reported an increased risk for recurrence (OR 2.23 CI 1.17–4.26) however on subsequent multivariate analysis this was no longer significant [17]. Multicentre randomized trial of 300 patients reported no difference in recurrence rates between BMI subgroups [12]. A retrospective review of 199 patients undergoing primary tissue repair found an overall recurrence rate of 4% with no difference in obese patients on subgroup analysis [18].
The effect of smoking was analysed in 3 studies. A prospective cohort study found that there was no significant increase in recurrence in smokers (OR 1.01 95% CI 0.29–3.56) [17]. A more recently published prospective cohort study contradicts this and reports recurrence rates of 3% in non-smokers compared to 8% in smokers (p = 0.02) [16]. A multicentre observational cohort study of 168 patients undergoing ventral hernia repair with mesh, of which 65% were umbilical defects, reported a recurrence rate of 2.4% and that smoking was the only significant factor to increase recurrence (p = 0.022)[19].
Concurrent repair of co-existing ventral or inguinal herniae was reported in 3 studies all of which found it elevated the risk of recurrence [14, 17]. The largest study reported that the presence of co-existing inguinal hernia was statistically significant with a HR 2.54 (CI 95% 1.03–6.27 p = 0.0437)[16].
Diabetes Mellitus was identified in 3 studies with two finding diabetic patients had an increased risk of recurrence with Donovan reporting 7.8% recurrence in diabetics compared to 2.8% for non-diabetics p = 0.02 [14, 16]. However a cohort study of 306 patients found no association between diabetes and recurrence OR 0.3 (CI 0.04–2.28) [17].
The effect of Surgical Site Infection (SSI) was reported in 3 studies however it was not statistically significant in influencing recurrence [15, 16, 18].
The influence of mesh type was analysed in 2 studies. Ponten reported no difference in recurrence between the use of a ventral patch (8.4%) when compared to a standard prolene mesh (4.1%) p = 0.127 [15]. Donovan reported on the use of various mesh types including polytetrafluoroethylene, polypropylene, polydiaxone, polyester and multifilament polypropylene in open UH repair and found no statistical difference in recurrence [16].
The presence of liver disease and ascites was identified as a factor for recurrence in a study of 332 patients by Shankar who reported an OR 8.0 (CI 95% 1.8–34.4 p = 0.02 [14].
In a retrospective review of 186 obese patients, Froylich reports a recurrence rate of 20% in laparoscopic repair versus 27% (p = 0.28) in open ventral hernia repair at 6 years follow up; the study identified that advanced age was a protective factor with an OR − 0.03 (CI 0.96–0.01 p = 0.01)[20].
Closure of fascial defect in laparoscopic ventral hernia repair, termed 'IPOM Plus', was assessed by Mitura in their case–control trial of 82 patients. Recurrence rates were significantly decreased from 10% in standard IPOM down to 0% when fascial closure was performed [21].
American Society of Anaesthesiologist (ASA) score was reported as a factor is recurrence rates with patients having an ASA III/IV being more likely to experience recurrence on multivariate analysis [16].
One paper reports on univariate analysis that Chronic Kidney Disease, Cardiac disease and presence of bowel obstruction on presentation are all factors that increase recurrence [18].
Rights and permissions
Open Access This article is licensed under a Creative Commons Attribution 4.0 International License, which permits use, sharing, adaptation, distribution and reproduction in any medium or format, as long as you give appropriate credit to the original author(s) and the source, provide a link to the Creative Commons licence, and indicate if changes were made. The images or other third party material in this article are included in the article's Creative Commons licence, unless indicated otherwise in a credit line to the material. If material is not included in the article's Creative Commons licence and your intended use is not permitted by statutory regulation or exceeds the permitted use, you will need to obtain permission directly from the copyright holder. To view a copy of this licence, visit http://creativecommons.org/licenses/by/4.0/. The Creative Commons Public Domain Dedication waiver (http://creativecommons.org/publicdomain/zero/1.0/) applies to the data made available in this article, unless otherwise stated in a credit line to the data.
Disclaimer:
This article is autogenerated using RSS feeds and has not been created or edited by OA JF.

Click here for Source link (https://www.biomedcentral.com/)