Utilizing Patient Reported Outcome Measures (PROMs) in ambulatory oncology in Alberta: Digital reporting at the micro, meso and macro level – Journal of Patient-Reported Outcomes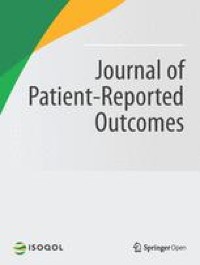 Cancer Care Alberta (CCA) is the provincial cancer program in Alberta, Canada, where comprehensive PROMs data is collected alongside clinical and administrative data for most ambulatory cancer patients [8]. In 2012, CCA began routinely using a standardized PROM called "Putting Patients First" (PPF) to enhance symptom management [9, 10]. The PPF includes two standardized measures: the Revised Edmonton Symptom Assessment System (ESASr) [11, 12] and the Canadian Problem Checklist (CPC) [13]. These measures provide a comprehensive overview of common symptoms and concerns cancer patients experience, and align with national reporting requirements [11,12,13]. A Standard Operating Process (SOP) was developed to outline the expectation for repeated use of the PPF across the care trajectory, the method for collecting the patient reported information (paper-based), and the procedure for clinical review, assessment and response, including documentation [14].
In 2014, AHS endorsed the EuroQol Five Dimension Scale-5 Level (EQ5D-5L) [15] as the provincial health-related Quality of Life (HRQoL) PROM [16], allowing for comparisons of HRQoL across programs and location. The EQ5D-5L is currently used ad hoc in CCA for performance evaluation and economic analyses at the system level but planning is underway for its routine collection once a patient direct entry option is available provincially.
In 2015, funding was secured to develop visual tools that could digitally track PROMs over time, as clinicians voiced frustration with the paper-based PPF symptom screening process, which could not draw attention to worsening symptoms, or symptom clusters that contribute to suffering [17]. A hybrid data-entry process was designed where the PPF is completed in the waiting room and clinicians document the PROMs data along with their clinical assessment in the Electronic Medical Record (EMR) after its review. Currently in CCA, there are over 60,000 unique patients represented in our PROMs database, with over 300,000 digitally captured patient reports. Once this standard process was established, several digital dashboards were co-designed with IT/Analytics, clinicians and patient advisors to report PROMs data at the micro (individual), meso (clinic) and macro (program) levels.
Micro: Trended Individual PROMs Dashboards
The initial dashboard prioritized for development by clinicians was the Trended Individual PROMs Dashboard (Trended Dashboard) for use at the individual patient level. The purpose of this dashboard was to help clinicians and patients understand how symptoms have changed over time. This displays data from the patient's six most recent PPFs, the patient's priority concern, and clinical actions taken in the encounter. Clinicians requested longitudinal trending on this dashboard to allow for clear visualization of how symptoms and concerns have changed over time (see Fig. 1).
Clinicians also requested visual cues to easily differentiate mild symptoms from moderate or severe which informed the color-coded trends. A patient rating of 0 (no symptom burden) is therefore represented in blue, 1–3 appears green, 4–6 appears yellow and scores between 7 and 10 (worst) appear red. Symptom complexity, which was added to the individual dashboard at a later stage, is also displayed (discussed in the next section). CPC items are reported in a corresponding summary table. Clinicians are able to select historical PPF data beyond the most recent six screening dates. Lastly, this dashboard indicates if, and when, a patient has also completed the EQ5D-5L [15]. While we worked quite extensively with CCA's Enterprise Business Intelligence (EBI) team to develop this dashboard, ways in which the PROMs data could be reported and displayed were limited.
A patient-facing version of the Trended Dashboard was also created, called the Symptom Tracking Report (STR). This simplified version, including only the elements reported by the patient, is printed out and given to patients upon clinic check-in, giving them time to review it independently and bring into their appointment to discuss with their care team (Fig. 2).
Meso: PROMs Clinic List with symptom complexity score
As the first dashboard became integrated into practice, clinicians shared positive feedback about the utility, but indicated that looking up each patient's dashboard was too time consuming, and requested a list of their patients from which each individual dashboard could be quickly accessed. Clinicians also requested a visual flag to identify patients struggling with a high number of symptoms or concerns at their last visit, so staff could anticipate which patients may need a more focused symptom assessment at their next appointment. This aligns with published research on barriers to using PROMs in routine practice including broad issues with the ease of interpretation and utilization of PROMs data in routine clinical care encounters6. Based on clinician input, the development of a symptom complexity algorithm and clinic list were the next two priority design areas.
The symptom complexity algorithm, which was again co-designed with clinicians, considers the severity of all ESASr symptoms and the number of CPC concerns reported on the PPF and assigns a symptom complexity score (mild/green, moderate/yellow or high/red) for the encounter. This clinician-facing summary score provides an alert to the clinical team so they can tailor their time allocation and care to best meet a patient's needs. The final version of the symptom complexity algorithm is presented in Fig. 3 (validation of this algorithm is reported elsewhere) [18]. The symptom complexity score can also be used as a strategy to identify patients who are experiencing low symptom complexity, who could be triaged to other modes of care delivery outside of the in-person clinic (e.g. virtual appointment).
From there, the PROMs Clinic List with Symptom Complexity Score was developed (Fig. 4). Each patient on the list is hyperlinked to their own Trended Individual PROMs Dashboard, allowing clinicians a quick overview of the symptom burden of patients attending their clinic as well as access to the more detailed individual historical trends.
Macro: PROMs Aggregate Dashboard
The final dashboard developed was the PROMs Aggregate Dashboard which reports on symptoms, symptom complexity and referral activities for a variety of patient populations at the program level (Fig. 5). This dashboard is for clinical leaders and program administrators to identify populations that have high symptom complexity and referral data so staffing can be adjusted accordingly. This dashboard has also been used for comparisons across populations to determine those which may require embedded supportive care staff such as dieticians or psychologists. PROMs Aggregate Dashboard Data is reported nationally in the National Cancer System Performance Report created by the Canadian Partnership against Cancer (CPAC) [19], as many other cancer programs in Canada also use the ESASr as a PROM.
Rights and permissions
Open Access This article is licensed under a Creative Commons Attribution 4.0 International License, which permits use, sharing, adaptation, distribution and reproduction in any medium or format, as long as you give appropriate credit to the original author(s) and the source, provide a link to the Creative Commons licence, and indicate if changes were made. The images or other third party material in this article are included in the article's Creative Commons licence, unless indicated otherwise in a credit line to the material. If material is not included in the article's Creative Commons licence and your intended use is not permitted by statutory regulation or exceeds the permitted use, you will need to obtain permission directly from the copyright holder. To view a copy of this licence, visit http://creativecommons.org/licenses/by/4.0/.
Disclaimer:
This article is autogenerated using RSS feeds and has not been created or edited by OA JF.

Click here for Source link (https://www.springeropen.com/)