Successful treatment of bepridil-induced intraoperative torsades de pointes by isoproterenol infusion – JA Clinical Reports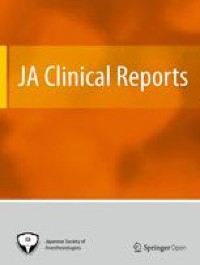 We report a case of intraoperative QT prolongation and TdP in a patient on bepridil. TdP was successfully treated by increasing the HR with isoproterenol.
Several medications, including antiarrhythmics, are known to induce QT prolongation and TdP, a rare but life-threatening arrhythmia. Johnston et al. analyzed 46 cases of perioperative TdP in the literature between 1978 and 2011 [5]. The main preceding events were QT prolonging drugs (30%), hypokalemia (26%), and bradycardia (15%). The mean QTc at the time of TdP was 575 ms.
Bepridil is indicated for conversion of AF to SR in patients with persistent AF [1, 2]. However, bepridil reportedly also induces QT prolongation and TdP because of its multiple ion-channel blocking action, including that of potassium channels [3]. Careful follow-up is therefore highly recommended for the prevention of TdP during its use, especially in elderly patients. The risk factors for TdP in patients treated with bepridil include QT prolongation, bradycardia, hypokalemia, and advanced age [3].
QT/QTc interval on admission to the operating room was prolonged (520/570 ms) in our patient, though that measured 1 month before surgery was within normal limits (324/396 ms). It is known that QT/QTc intervals can fluctuate widely depending on the patient's activity, posture, circadian rhythm, and food intake. Therefore, we should keep in mind that preoperative assessment of QT intervals cannot always predict the intraoperative occurrence of TdP [6].
Conversion of AF to SR was related to QT prolongation in our patient. With the conversion of AF to SR, the QT/QTc changed from 324/396 ms to 520/546 ms preoperatively and from 235/333 ms to 440/538 ms postoperatively. It is not clear whether QT prolongation was caused by rhythm conversion itself or by decreased HR. There is one report describing TdP episodes soon after the conversion of AF to SR in patient on bepridil therapy [7].
Bradycardia is known to exacerbate QT/QTc prolongation and eventually trigger TdP in acquired long QT syndrome. During intraoperative management, opioids used for general anesthesia (fentanyl and remifentanil) and the sympathetic blocking properties of thoracic epidural anesthesia can often induce bradycardia. In fact, the HR decreased from 72 to 50/min after the induction of general and epidural anesthesia in our patient.
We should also pay attention to electrolyte abnormalities, especially hypokalemia and hypomagnesemia in patients with long QT. Hypokalemia (3.6 mEq/L) could have contributed to the occurrence of short runs and TdP in our patient, though they disappeared immediately after the start of isoproterenol infusion, that is, before the correction of hypokalemia.
Advanced age is reportedly associated with QT prolongation. Furthermore, sevoflurane reportedly causes greater QTc interval prolongation in elderly patients than in younger patients [8]. However, the extent to which sevoflurane increases the risk of life-threatening arrhythmias in patients with acquired long QT syndrome remains unclear.
Assessment of serum concentration of bepridil can be useful to predict the occurrence of TdP, because the QTc interval is reportedly significantly associated with serum bepridil concentration [4]. In our patient, serum bepridil concentrations measured on the second and third postoperative days were remarkably high with respect to the reported therapeutic range, suggesting that intraoperative QT prolongation and TdP were induced by bepridil.
Thus, preoperative evaluation of the risk of life-threatening arrhythmias is crucial in patients on QT interval-prolonging drugs. Preoperative withdrawal of bepridil should have been considered in our case, though its serum concentration reportedly persists for several weeks after cessation [6]; the serum concentration of our patient did not change for one day (2341 vs. 2415 ng/mL).
As bradycardia triggers QT prolongation and TdP in acquired long QT syndrome, increasing the HR could be a rational treatment strategy. In our patient, increasing HR pharmacologically with isoproterenol showed immediate and remarkable effects in the treatment of bepridil-induced TdP, as has been previously reported in an ICU patient [6]. As isoproterenol can be started quickly, we think it is worth trying in the operating room. Cyclic AMP amplification by isoproterenol can activate potassium channels and counteract QT prolongation caused by bepridil. However, the QT interval did not change after isoproterenol infusion in our patient. Temporary pacing could also have been effective in increasing the HR, but we did not try it because percutaneous pacing can often fail and the preparation for trans-jugular pacing can be time-consuming.
Lastly, although we chose isoproterenol treatment to increase the HR and counteract the QT-prolonging effect of bradycardia, bolus administration of magnesium could also be considered as an immediate treatment for TdP.
Rights and permissions
Open Access This article is licensed under a Creative Commons Attribution 4.0 International License, which permits use, sharing, adaptation, distribution and reproduction in any medium or format, as long as you give appropriate credit to the original author(s) and the source, provide a link to the Creative Commons licence, and indicate if changes were made. The images or other third party material in this article are included in the article's Creative Commons licence, unless indicated otherwise in a credit line to the material. If material is not included in the article's Creative Commons licence and your intended use is not permitted by statutory regulation or exceeds the permitted use, you will need to obtain permission directly from the copyright holder. To view a copy of this licence, visit http://creativecommons.org/licenses/by/4.0/.
Disclaimer:
This article is autogenerated using RSS feeds and has not been created or edited by OA JF.

Click here for Source link (https://www.springeropen.com/)