Diagnosis of cervical plexus tumours by high-frequency ultrasonography – BMC Medical Imaging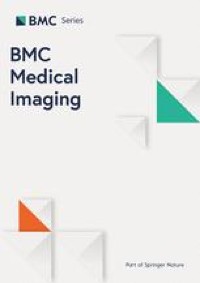 Study subjects
From January 2017 to December 2019, eleven patients with CP masses (8 females (72.7%) and 3 males) who were diagnosed with CP tumours were enrolled. The patients were referred to the clinic for a palpable mass, arm numbness or pressing pain. All patients underwent high-resolution ultrasound neurography and MRI. Fourth patients also accepted Computed Tomography (CT) scanning. The average patient age was 40.73 ± 13.24 years (15–54 years). All 11 participants were confirmed to have CP tumours by surgery and pathology. Another 22 healthy adult volunteers (aged from 17 to 49, 37.55 ± 13.92 years) were recruited to assess measurements of a normal cervical nerve.
Equipment and methods
MRI examinations were performed with the patient in the supine position with the head in a neutral position using a MAGNETOM Avanto 1.5 T MRI system (Siemens Healthcare, Erlangen, Germany). Sagittal T1WI, sagittal T2WI and axial T2WI for cervical spine were used as standard protocol. In addition, short inversion time inversion recovery sequences to suppress fat in paraspinal soft tissue, FLASH, and T1W FAT-SAT sequences were also included wherever necessary. 4 patients had taken a spiral CT scan (Somatom Definition Flash, Siemens Healthcare, Forchheim, Germany) from the top of the skull to the superior border of the aortic arch were reviewed. Images were reconstructed with a slice thickness of 1 mm and an increment of 0.8 mm. All images were analyzed by experienced radiologist (Xu Yang, Liwei Huang).
GE Logiq 9 ultrasound system with a 6–12 MHz linear array transducer (GE Medical Systems, Milwaukee, WI, USA). Ultrasonography was performed by two experienced sonographers (Jing Wang, Dingzhang Chen). The subjects were examined on both sides of the neck in the supine position. The CP nerve was fully scanned at the levels of the intervertebral foramen, roots, trunks, and visible terminal branches in the longitudinal and transverse planes. The diameters of the different levels of the CP nerve were measured in all subjects (healthy volunteers and those with CP tumours), and the size, echogenicity, Doppler blood flow and connection to the nerve of the masses were also evaluated.
Adler grading [9, 10] was used to classify Doppler blood flow in the tumour as follows: Adler 0 refers to that no obvious blood flow signal; Adler I refers to 1 or 2 small blood vessels with a diameter of 1 mm are detected; Adler II refers to that 3 or 4 small blood vessels are detected; Adler III refers to that more than 4 blood vessels, or the blood vessels are intertwined into a network are detected.
Statistical analysis
Statistical analyses were performed using statistical software (SPSS for Windows, version 21.0; SPSS, Chicago, IL, USA). Continuous variables are expressed as the mean ± standard deviation (SD), and categorical variables are expressed as percentages. The variables were compared using the t test or Fisher's exact test: t test was used to compare diameter of normal CP and BP nerve, and Fisher's exact test was used to compare difference between mass location and colour Doppler grade. Probability (P) values < 0.05 were considered significant.
Rights and permissions
Open Access This article is licensed under a Creative Commons Attribution 4.0 International License, which permits use, sharing, adaptation, distribution and reproduction in any medium or format, as long as you give appropriate credit to the original author(s) and the source, provide a link to the Creative Commons licence, and indicate if changes were made. The images or other third party material in this article are included in the article's Creative Commons licence, unless indicated otherwise in a credit line to the material. If material is not included in the article's Creative Commons licence and your intended use is not permitted by statutory regulation or exceeds the permitted use, you will need to obtain permission directly from the copyright holder. To view a copy of this licence, visit http://creativecommons.org/licenses/by/4.0/. The Creative Commons Public Domain Dedication waiver (http://creativecommons.org/publicdomain/zero/1.0/) applies to the data made available in this article, unless otherwise stated in a credit line to the data.
Disclaimer:
This article is autogenerated using RSS feeds and has not been created or edited by OA JF.

Click here for Source link (https://www.biomedcentral.com/)